Scottish jobless numbers fall by 3,000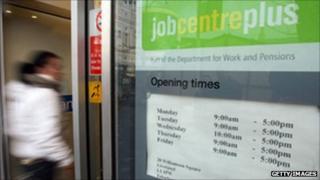 Unemployment in Scotland has fallen again, according to official figures.
The number of people out of work fell by 3,000 to 195,000 in the period between October and December.
The labour market statistics said employment in Scotland had increased by 9,000 over the quarter to stand at more than 2.5 million.
The latest figures also showed that in the UK as a whole, unemployment fell by 125,000 over the same period to 2.34 million.
The UK jobless rate of 7.2% continues to be higher than the Scottish rate of 7.1%.
The Scottish government said a 92,000 increase in employment in Scotland over the last 12 months was the largest annual increase in nearly seven years.
First Minister Alex Salmond said this increase was "a demonstration of this government's commitment to creating jobs and boosting the economy".
"Today that commitment is underlined by our further £4m investment in Community Jobs Scotland's work across the third sector."
However, he said Scotland could go much further.
He added: "Only with the full fiscal and economic powers of independence can we can take a different approach."
Scottish Secretary Alistair Carmichael insisted Scotland was benefitting from being part of the UK.
He said: "With business confidence continuing to grow, more jobs are being created, and inflation is now below the 2% government target.
"Together with the Bank of England is revising up its forecast for GDP growth in 2014 it is clear that being part of a large UK single market and an influential EU member benefits Scotland. Our economy is growing because we are part of the UK."
Liz Cameron, chief executive of Scottish Chambers of Commerce, welcomed the fall in unemployment.
Skills strategy
"More and more indicators are pointing towards the economic recovery continuing in 2014 and many businesses are actively recruiting new staff or working to increase productivity levels of existing workers," she said.
"As the recovery takes hold and employment levels increase, it is vital that Scotland has the right skills mix to meet the demands of business and to maximise the employment prospects of those people looking to enter or re-enter the labour market.
"It is time for government to focus its attention on getting the skills strategy right and ensuring that our schools, colleges and universities are delivering the skills that business needs to take Scotland's economy forward and fulfilling the potential of our people."
However, Grahame Smith, general secretary of the Scottish Trades Union Congress, said: "It is becoming a concern that the strong momentum of the first half of last year doesn't appear to have carried through into the second.
"The employment rate of 72.8% between October and December is the same as that for June to August. Over 100,000 net new jobs are still required to take the employment rate back to its summer 2008 peak."