Poor weather 'hit high street footfall'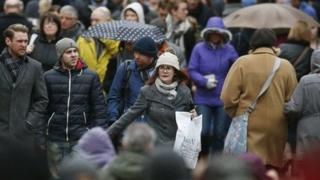 Bad weather contributed to a fall in the number of people hitting the shops last month, retail experts have said.
Footfall in Scotland fell by 1.8% in January compared with the same period last year.
In contrast to Scotland, the UK as a whole recorded its best footfall since December 2011, with a 1.6% rise.
The report by the Scottish Retail Consortium and Springboard also said one in 10 shop premises were vacant in Scotland.
David Lonsdale, director of the Scottish Retail Consortium, said the drop in shopper numbers was consistent with a similar fall recorded in December.
He said: "We won't know for certain until the January sales figures are published if the decline in visits leads directly to an impact on sales; however, it isn't encouraging news for retailers in Scotland.
"Whilst the vacancy rate remains unchanged in January we can't get away from the fact that over one in 10 retail premises in Scotland are sitting empty.
"One need only look at their own local high street to see the impact this is having and a constant reminder of why reform of the business rates system is so important."
'Less resilient'
Diane Wehrle, retail insights director at Springboard, said the figures showed Scotland's retail locations were "less resilient" in January than the UK as a whole.
She said: "However, in line with the UK, it is retail parks that led the way with an increase in footfall of 4.9% compared with a decrease in footfall in both shopping centres and high streets.
"The weather has clearly had an impact, as footfall in high streets fell by 4.6%, a far more significant drop than the fall of 0.6% in high streets across the UK.
"At the same time, the fact that Scotland's vacancy rate has remained stable suggests a degree of optimism about future trading conditions."