Demand for property continues to rise says Rics survey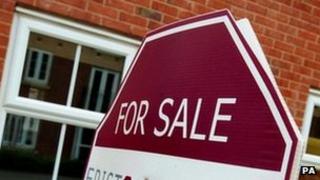 The Scottish housing market continues to see demand for properties outstrip supply, according to surveyors.
The Royal Institute of Chartered Surveyors (Rics) said the number of houses coming on to the market for sale was steady but demand had increased.
This increase in demand for properties was seen as being a key factor in the continued rise of house prices.
However, supply was expected to increase with the traditional "spring bounce", the Rics report said.
It said the number of potential buyers increased more than the amount of housing available to buy for the ninth consecutive month.
The chartered surveyors reported that the gap between supply and demand reached almost 10% in January.
House prices in Scotland have risen steadily since May 2013.
'Simpler legislation'
Sarah Speirs, director of Rics Scotland, said: "Prices are on the up in Scotland and this is driven largely by a lack of properties coming on to the market.
"With a growing number of people now in a position to buy a home, there are simply not enough properties to satisfy demand.
"The upshot of this is that prices are increasing in many areas. However, Rics members do expect an increase in supply in the coming months as the traditional spring bounce begins to take effect."
Responding to the survey, Kevin MacDonald, of chartered surveyors Graham and Sibbald in Inverness, said: "Momentum has been maintained during January, which is indicative of rising confidence with competitive bids, closing dates and more encouraging prices."
The report's positive outlook on the housing market continued with chartered surveyors predicting transaction numbers in Scotland to increase over the coming three months.
This increase in transaction numbers was also predicted to have a continued positive effect on house prices.