Scotbeef fined £26,250 over pollution breach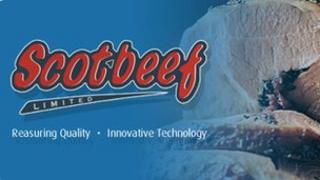 Scotbeef has been fined £26,250 after allowing the stomach contents of slaughtered beasts to overflow from a midden at its Bridge of Allan abattoir.
The incident was reported by a council official who noticed a nearby burn was flowing "a milky off-white."
The abattoir is the largest in Scotland and processes 2,500 cattle and 15,000 lambs a week.
Sheriff Mark Thorley said the firm had been guilty of "a significant breach."
Specialist environmental crime prosecutor Shona McJannett said straw from bedding, dung and paunch contents - partially-digested grass, bile, and liquid - were stored in the midden at the abattoir prior to being spread on local farmland in accordance with waste management permits.
Any seepage from the concrete midden should have been caught in underground tanks.
'Management failure'
Mrs McJannett said that during December 2012 and January 2013, the waste on the midden was allowed to build up to twice its holding capacity, and was left lying on a concrete apron on open ground in front of the midden.
She told Stirling Sheriff Court that the incident was the result of "a clear management failure."
The incident was reported to the Scottish Environmental Protection Agency (Sepa) by Stirling Council, after a council official noticed the tributary of the River Forth was flowing "a milky off-white."
SEPA inspectors who visited on 30 January found clumps of "sewage fungus" in the burn.
An enforcement notice was served on Scotbeef requiring remedial action, but nearly a fortnight later inspectors found that dung, straw and paunch contents were still being stored outwith the designated area, and were also still present on the access track.
No samples of fish were taken from the burn, due to health and safety concerns, but the pollution would have increased the "biological oxygen demand" in the watercourse, which could have compromised its ability to support creatures.
Mrs McJannett added: "This pollution incident was totally avoidable."
Mrs Heidi Archibald, defending, said that by the time the incident was identified by Sepa, steps were already being taken to manage it.
She admitted that company had focused on clearing the midden rather than clearing the area around it.
Mrs Archibald then said: "The company wasn't trying to bury its head in the sand. This wasn't a wilful ignoring of its obligations."
Scotbeef accepted they had been at fault for the incident and pleaded guilty to two charges of breaching pollution control regulations.