Warning over turbine industry future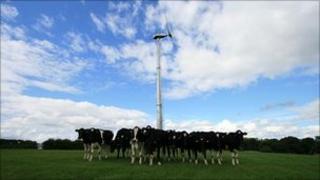 A small wind turbine firm has claimed that cuts in feed-in tariffs threaten the future of the industry in Scotland.
This week the UK government announced a 20% reduction in the tariffs to come into force in April 2014.
The tariff is a payment made to households or businesses generating their own electricity in a way that does not deplete natural resources.
The chief executive of Gaia-Wind, Johnnie Andringa, has warned the move will hit companies such as his.
Until last year, small wind turbines up to 15kW in size received a higher feed-in tariff than larger machines which made them more attractive for community schemes and farms.
Mr Andringa has claimed a decision by the UK government to group all wind projects with up to 100kW of capacity into the same feed-in tariff band will encourage investment in larger turbines but deter smaller community projects.
He told BBC Scotland: "There are a lot of small companies working in this area and the feed-in tariff helps make the product more affordable but now smaller turbines are at a disadvantage because they are in the same band as turbines ten times their size".
He warned: "It will be more difficult for small farmers or crofters to put up a small turbine and generate their own electricity".
A Department of Energy and Climate Change (DECC) spokesperson said: "Onshore wind is a major success story for the UK which brings economic benefit to our shores, supports thousands of skilled jobs and is an important contributor to our energy mix.
"As costs come down for more established technologies like solar and onshore wind, it is right that the level of public support is reduced to protect consumers.
"In line with new EU guidelines on competition and to deliver best value for money to the taxpayer, the government is considering introducing competition between more established large-scale low carbon technologies and will make a decision on this in 2014."