Scottish Renewables warns over offshore wind spend fall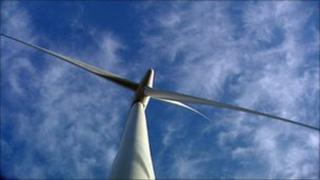 Major developers more than halved their spending on Scottish offshore wind projects last year, according to Scottish Renewables.
The industry body said findings suggested £28.9m was spent in 2013, compared with £63.6m in the previous year.
It warned the sector could be threatened by an "investment hiatus".
Scottish Renewables obtained the figures from offshore wind developers with projects in Scottish waters.
Senior policy manager Lindsay Leask said the 55% reduction in investment in one year was a cause for concern not only for the sector, but for the Scottish and UK governments.
She said: "Uncertainty throughout the industry is growing as none of the major projects planned for Scottish waters have had their planning applications determined yet, and the details around accessing market incentives are still unclear."
'Uncertainty growing'
She added: "With around five gigawatts of potential offshore wind development in planning - enough to meet the annual demand of three million homes - we can't afford to see these projects, and the investment decisions related to them, left in limbo.
"We'll be working hard over the coming weeks with governments north and south of the border to ensure the developers gain the certainty they need to unlock further investment."
Scottish Renewables said there was some positive news last year, including the installation of the next generation of turbines off the Fife and Ayrshire coasts and Statoil being given the green light to develop floating turbines off the coast of Peterhead.
Responding to the report, Scottish ministers said they were disappointed the UK government had not included Scottish offshore projects in an early subsidy programme called the Final Investment Decision (FID) Enabling for Renewables.
'Strong case'
Energy Minister Fergus Ewing said: "Instead of putting barriers in the way of Scottish offshore wind deployment the UK government should be providing support, and we believe the Scottish projects have a strong case for being included in the FID enabling plan.
"We continue to seek improvements to the process of assessing applications for offshore wind developments, and I hope to receive recommendations from Marine Scotland in relation to developments in the Moray Firth.
"The Scottish government is fully committed to maximising our offshore wind potential, and there have been a number of positive developments over the past year, including the introduction of the £15m Scottish Innovative Foundation Technologies Fund to support pioneering substructures, and the installation of the world's largest offshore wind turbine at Methil."
A spokeswoman for the UK Department of Energy and Climate Change said: "This government is committed to a thriving offshore wind sector.
"Our Electricity Market Reforms will encourage investment in cleaner electricity generation and represent an excellent deal for the industry.
"We expect to more than double our existing offshore wind capacity by 2020."