SSE treads carefully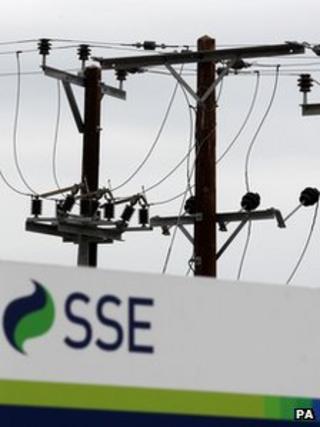 SSE is walking a difficult path through a minefield, in which it has to balance political, consumer and investor pressure. In doing so, it's trying to go on the offensive.
With power companies now down there among the most loathed of national institutions, new chief executive Alistair Phillips-Davies must have known that a hint of rising profits would go down badly.
It obviously hasn't been forgotten that SSE led the way in last autumn's price rise announcements.
But he's got to keep his shareholders sweet. The prospect of profits sustain his share price, and without that investor confidence, it weakens the ability of SSE to invest in new generating and transmission capacity.
And that's where today's trading update treads carefully into some interesting territory.
In listing all the ways in which the Perth-based company's plans are being thwarted or delayed, those words "keeping the lights on" creep in.
They're often seen within the industry as unnecessarily alarmist, but of course, they are the means of grabbing the attention of consumers and politicians.
That is: you may not like those prices from its brands Scottish Hydro, Southern Electric and Swalec, but if government and regulators don't get their act together, SSE and the other Big Six companies aren't going to be able to deliver energy reliably in the future.
'Not encouraging'
Mr Phillips-Davies lists the various ways in which reform of the energy market has been delayed, and continues to delay investment.
Having failed to get fast-track approval for offshore wind plans, he's now talking about a "wide-ranging review" of them, and a clear indication that investment plans are going to be cut.
He acknowledges the UK government's move to reduce some of the non-energy tariffs on consumer bills (the ones for social support, though not for green and insulation measures) but calls for more of the same - removing them altogether.
"SSE believes it has, and wishes to maintain and invest in, a diverse generation portfolio that helps to keep the lights on for people, businesses and organisations by being available, reliable and flexible," says the chief executive.
"The prospects for investment in generation assets in Great Britain are, however, not encouraging."
It's a carefully worded warning to politicians. And it's followed by raising the Labour Party's new policy of freezing energy bills. There's a response coming by the end of March. Reading between the lines, it doesn't look like it's going to look kindly on Labour's proposals.
The wind drops
It feeds into concerns that the renewables revolution is not going to revolve as expected. In offshore wind in particular, costs have not come down as expected, and the scale of Britain's ambitions have been pared back.
Add to that an alliance announced this week between two companies wanting to get a share of offshore wind turbine manufacture - Areva and Gamesa - and the economic benefits begin to look a bit ropier.
They were both going to build factories in the east of Scotland - probably Leith for one, maybe Dundee for the other. Between them, they were on track to bring 1,750 jobs.
It's hard to see how or why they would go for both factories now. And if the market signals don't become clearer, and costs lower, they may not be built at all.