Viridor plans new £25m recycling plant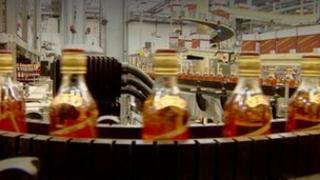 The recycling firm Viridor has announced a new £25m glass recycling plant at Newhouse in Lanarkshire creating 30 new jobs.
The company said the facility would be the most advanced in Europe.
It will have the capacity to recycle 200,000 tonnes of glass every year, which is 150% of all glass packaging currently collected in Scotland.
It is hoped the new plant will reduce the need for industries such as Scotch whisky to import glass.
Chief executive of Viridor, Ian McAulay, said: "Building on our £100m network of Scottish recycling-led infrastructure, this latest investment, bringing the UK's most advanced glass recycling centre home to the central belt, places Scotland at the leading edge of global glass recycling.
"Part of a £500m Scottish investment strategy to translate zero waste policy into practice, the centre will drive sustainability for the Scotch whisky and associated sectors at the heart of Scotland's global position."
Julie Hesketh-Laird, Scotch Whisky Association director of operational and technical affairs, commented: "By 2020 distillers are committed to 40% of their product packaging being made from recycled materials.
"Glass accounts for the vast majority of the packaging of Scotch and we welcome supply chain innovation which advances glass recycling."