A sunburst on the jobs market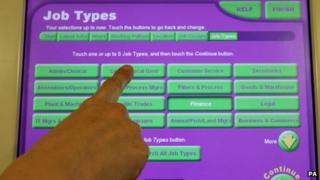 The job numbers have been fairly consistent in looking brighter as the storm clouds of economic downturn gradually clear. But the most recent survey results look more like a burst of January sunshine.
The number of Scots seeking work has plummeted in the most recent figures - down by 25,000 in September to November, to reach 176,000. That's 6.4% of the workforce.
That's better than even the optimists had expected, which is why it's not obvious what lies behind the fall.
The obvious bit is that confidence is growing, and private sector firms are hiring. The number of people in work was up 10,000. Over the year, it's up by 90,000 - the biggest improvement in the employment rate of any UK nation or region other than Wales.
Active and inactive
The most recent survey figures look good also because so many people appear to have left the labour force. More of them did so (14,000) than found new jobs (10,000).
The number of "economically inactive" is up 31,000 in Scotland over the quarter, while it's fallen by 22,000 across the UK.
Over the year to November, however, it's down 37,000, nearly half the fall for the whole of the UK.
That leaves Scotland with 22.1% inactivity of adults aged up to 65, mainly due to parenting, other carer responsibilities, ill health, education or early retirement. That's a tenth of one percent lower than the UK inactivity rate.
The monthly figures also give us an indication of pay growth, or lack of it. And it's come in again at an annual growth of 0.9%. Set against 2% inflation, in the consumer price index, that means we've still got falling real wages.
If the job figures are happily improving faster than expected, it points to productivity as a continuing concern. Without improved productivity of workers, there won't be a sustained growth in earnings and spending power.
Claimants
The next threshold to watch could be the fall in the number of people claiming Jobseekers Allowance (JSA).
It doesn't get the same attention as the Labour Market Survey because it covers only part of the jobs story. And because changes in welfare policy have changed the way JSA works, it's harder to compare over time.
However, it fell in December by another 1,900 to 113,800. That's down 24,100 in a year.
It's on course to fall through the 100,000 mark, and in telling its story of relative strength, the Scottish government will be hoping that the 4% JSA rate comes down to the UK one, which reached 3.7% in December.