Crowdfunding 'first' for racehorses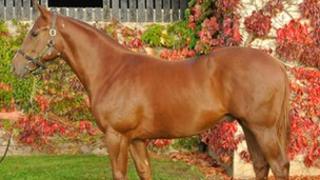 Members of the public are being given an opportunity to buy shares in racehorses through a crowdfunding platform for the first time.
The fundraising technique allows racehorse trainers and syndicates to pitch for investment over the internet.
A website has been launched by Crowd Racing, which offers anyone a share of a thoroughbred for a one-off payment.
Equity crowdfunding business Crowdcube is providing the technology behind the platform.
The move means anyone can own a share in a single horse or build up their own string across multiple trainers.
Crowd Racing, which is based in Larbert, near Falkirk, said crowdfunding provided a lower-cost alternative to racehorse ownership than syndicates and racing clubs.
Crowd Racing founder Craig McKenna said: "Owning racehorses will no longer be reserved for the rich and famous - now anyone can genuinely own a share of a thoroughbred for as little as a £75 one-off payment.
"It's an affordable way to get involved, and of course if you have more to invest, the range of owner benefits goes up, but all owners get their share of any prize money, or the proceeds of any sale of their horse."
Racing yard Horses First Racing (HFR) became one of the first to pitch for funding on the Crowd Racing website with an unnamed two-year-old colt.
Its pitch target is £75,000 to cover the purchase of the horse and its associated training costs for a year.