Fall recorded in number of Scots going bust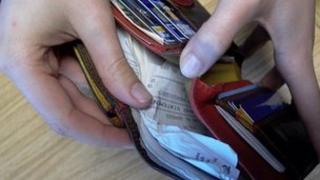 The number of Scots declared bankrupt in the final three months of last year fell, while company failures rose.
A total of 3,335 people were declared insolvent during the period - a fall of nearly 14% on the previous year.
The number of companies failing rose by more than 23% - with a steep rise in compulsory liquidations.
The figures from the Accountant in Bankruptcy also showed a sharp increase in the number of companies choosing voluntary liquidation.
Commenting on the personal insolvency figures, Enterprise Minister Fergus Ewing said: "The overall demand for statutory debt solutions in Scotland continues to decline.
"The number of bankruptcies awarded in Scotland has been decreasing since 2008-09 and we expect this to continue.
"However, we must also recognise that - within this overall, decreasing trend - the proportion of people entering bankruptcy with little income and few assets is rising."
He added: "Scotland's bankruptcy legislation has to do more to provide a safety net for vulnerable, low-income debtors and their families."
He said the Scottish government was introducing new legislation to make "cheaper and more effective debt relief to those who need it most."