Livingston firm Touch Bionics reports surge in sales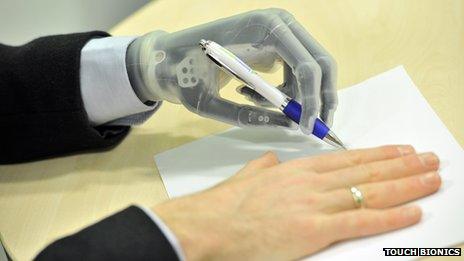 Prosthetic limb specialist Touch Bionics has reported a surge in sales, following the launch of a new bionic hand product.
The Livingston-based firm achieved revenue growth of 23% last year, to reach £12.3m in total sales.
The company said growth was driven by the introduction of its "i-limb ultra revolution", which was designed for patients with upper limb deficiencies.
The hand can be programmed via a mobile app.
Touch Bionics chief executive Ian Stevens said: "We are pleased with our 2013 performance and are looking forward to continued growth in 2014.
"Patients have benefited from recent enhancements to our technologies, which can restore significant function and self-esteem following the trauma of upper limb loss."
A spin-out from the UK's National Health Service, Touch Bionics was founded by inventor David Gow and is funded and supported by Archangel Informal Investment and Scottish Enterprise.
Related Internet Links
The BBC is not responsible for the content of external sites.