The art of business: The bank that built a Scottish art collection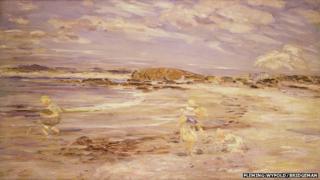 The London-based Fleming Collection, which features hundreds of works of art with a distinctly Scottish theme, highlights a long tradition of corporate collectors.
The next time you are visiting a major corporation, hotel, airport or retailer, take a close look at your surroundings.
There's a good chance you'll see a gem of a painting hanging within touching distance.
Collecting artworks has been a long-standing tradition in the business world.
The first corporate collection is thought to have been formed during the Renaissance in 1472 by the Monte dei Paschi bank in Siena.
And it is a tradition that shows no sign of waning, despite the new age of austerity.
By the mid-1990s half of the Fortune 500 companies and another 2,000 companies in the USA and Europe were actively collecting art.
'Modern Medicis'
Corporate art is now being celebrated at a major exhibition which has just opened at auctioneers Bonhams in London and runs until 24 January.
The event, Modern Medicis and their Art Collections, features paintings, prints, sculpture, photography and video art from a selection of major companies in Britain, France, Germany, Spain and Scandinavia.
Among companies which have temporarily parted with their prized artworks are HSBC (France), Norwegian oil firm Statoil, Aeon (Germany), Canary Wharf and Clifford Chance.
The exhibits include works by Magritte, Delvaux, Cadell, Tracey Emin, George Grosz, Otto Dix, Ellis O'Connell and Cornelia Parker.
On the surface, collecting art appears to have little to do with a corporation's core business.
But art historians argue that collecting works for a business is much more than simply an ego trip by boardroom directors.
A case in point is the London-based Fleming Collection, which features hundreds of works of art with a distinctly Scottish theme.
It has been named in a new book which lists the 100 best corporate art programmes in the world, and three of its works are featured in the Bonhams exhibition.
Collection beginnings
The collection was started by the merchant bank Robert Fleming & Co, which was founded in Dundee in 1873 by an ancestor of James Bond author Ian Fleming.
The first pieces of art were bought in 1968 when the company moved to new London offices.
It now has about 800 works, covering 300 years of Scottish art as represented by artists such as Samuel John Peploe, Anne Redpath, Allan Ramsay, William McTaggart and the Glasgow Boys.
Scotland's past is evoked in a number of paintings, including historical events such as the Highland Clearances.
According to the Fleming-Wyfold Art Foundation, a Fleming family-backed charity which bought the collection when the bank changed hands in 2000, there was a pragmatic reason for starting to put works together.
Foundation trustee James Holloway says: "When the bank moved to bigger offices in 1968, they had so many bare walls and one of the directors at the time, David Donald, suggested buying art to cover them.
"To begin with, it was a case of buying purely nice things to fill up the spaces.
"It began to grow and people realised the collection was something of real interest.
"Almost by accident, the bank put together what was probably the finest private collection of Scottish art in the world."
New bursary
The Fleming-Wyfold Art Foundation continues to build on the collection and has entered a partnership with the Royal Scottish Academy in Edinburgh to support the next generation of emerging Scottish artists.
It is launching a new bursary worth up to £14,000 for a contemporary Scottish artist, which will include a mentoring and networking programme.
Peter Harris, co-author of the newly-published A Celebration of Corporate Art Programmes Worldwide, believes Fleming deserves its reputation as a top collection, with its emphasis on Scottish heritage.
He says: "I have looked at corporate collections all over the world and each one has a different purpose.
"In the case of Fleming, it teaches you about Scottish painting for the past 250 to 300 years.
"They also promote contemporary art by having lots of exhibitions and generating an interest in Scottish art in London."
Mr Harris dismisses the notion that money spent on art is a waste of company resources.
"The reality is that the percentage of a company's expenditure on art is infinitesimally small but the results are very large in terms of the image of an organisation," he argues.
"From a company's viewpoint it is a terrific investment. They can always sponsor exhibitions but then they are over and the works are gone.
"But if you own a collection it is there all the while."
Mr Harris claims art in the workplace can boost staff morale and creativity and help a company project its corporate identity in a memorable way.
He also argues that corporate art collecting helps artists and benefits communities.
He uses corporate jargon to emphasise his point.
"I describe it as a 'win, win, win' situation - the company wins, the artists win because they have a new audience, and the community wins, by raising the profile of local artists."
For the Fleming-Wyfold Art Foundation, its collection has provided a valuable opportunity to promote Scottish art.
Mr Holloway adds: "All the trustees feel Scottish art is very well catered for in Scotland but outside Scotland it is less well known.
"The foundation has an opportunity to fly the flag for Scotland and for Scottish artists, including contemporary artists."