Fall in retail sales makes December second worst month of 2013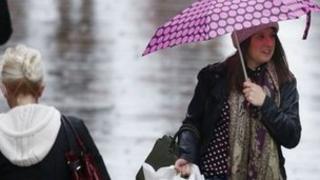 Sales at shops in Scotland fell last month, making December the worst performing month of 2013 after April.
Bad weather before and after Christmas contributed to a decline in December sales.
Figures from the Scottish Retail Consortium showed total sales last month were 1.1% lower than December 2012.
An "extremely competitive market" in food and drink was also said to be a factor.
Like-for-like sales, which do not factor in developments such as new store openings, showed a decrease of 3.2% on the same month in 2012.
Non-food sales were down by 2.9%.
The Scottish Retail Consortium produces the Retail Sales Monitor, which measures changes in the value of retail sales in Scotland.
The figures showed Scotland performing less well than the UK as a whole, where total sales increased by 1.8% and like-for-like sales rose by 0.4%.
David McCorquodale, head of retail at KPMG, said: "On the face of it, the Scottish sales ended a year of recovery on a negative note.
"A combination of an extremely competitive market in the food and drink sector and gales in the few days before and after Christmas dampened an otherwise positive year."
Scotland's convenience stores did better than big superstores with beer, party food and flowers selling strongly.
'Small setback'
Sales of clothing and footwear performed best, in particular formal wear and men's slippers, and there was strong demand for electrical goods such as tablets and games consoles.
The Scottish Retail Consortium's director, David Londsdale, said: "The overall trend for sales in 2013 was generally positive, however these figures show a small setback in December which will be disappointing news for Scottish stores but will hopefully prove short-lived."
He added: "There are some categories where the news has been better than others."
The figures came a day after the Scottish Retail Consortium revealed figures showing the number of people visiting Scotland's high streets and out of town shopping centres in December was 1.9% lower than for the previous December.
A Scottish government spokeswoman said the latest statistics had shown that "retail sales performance continued to grow over the past year".
She added: "The SRC's recent footfall figures suggest that Scotland fared better that the rest of the UK and we note a number of retailers reporting strong online sales over the holiday period.
"The Scottish Government continues to do all it can to support economic security through its social wage measures."