KPMG report suggests rise in value of fraud in Scotland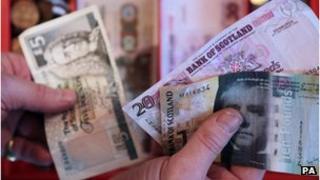 Fraudsters in Scotland swindled firms, local councils and the UK Treasury out of nearly £7m last year, according to a report by accountants KPMG.
The study found the total value of fraud rose by £700,000 in 2013 to £6.8m, while the number of major cases increased to 15.
It suggested 40% of cases involved employees embezzling cash from their organisations.
Staff accounted for £2m worth of fraud, and company bosses for about £700,000.
Fraudulent VAT accounting also featured significantly in Scotland in 2013, with a total value of more than £2.3m.
KPMG's fraud barometer covers major court cases involving sums of more than £100,000.
'Insider' frauds
Cases included a former mobile phone dealer from Glasgow, who was banned for 12 years from becoming a company director after wrongfully claiming £850,000 in VAT from tax officials.
In a separate case, a finance manager was jailed for three years for embezzling more than £600,000 from a Glasgow-based international chauffeur business, in order to fund luxury holidays and designer clothing.
Ken Milliken, head of forensic accounting for KPMG in Scotland, said: "While it is certainly the case that we have seen professional criminals using very clever high-tech frauds to attack banks, businesses and local authorities, we have also seen some of the biggest frauds committed by insiders.
"As old forms of transactions, such as cheques, are phased out, organisations are focusing on developing sophisticated lines of defence.
"While these look effective in putting-off many fraudsters, it would appear there remain significant opportunities for opportunists to defraud organisations from within."