Online shopping 'hit high street footfall'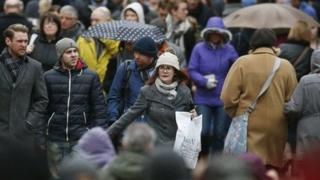 A rise in online shopping has been blamed for a decrease in the number of people visiting Scotland's high street shops and out of town shopping centres last month.
The Scottish Retail Consortium said the number of shoppers was 1.9% lower than for the previous December.
However, the fall was slightly smaller than the 2.4% drop seen across the UK as a whole.
Footfall in November was down 0.3% on the previous year.
David Lonsdale, director of the Scottish Retail Consortium, said: "Scottish shopper numbers dropped by a smaller amount than the UK average but it's obviously a concern to see that the fall was so steep after November showed some encouraging hints of recovery.
"Online was a big story this Christmas and these figures certainly reflect the rapid pace of change of how people are doing their shopping.
"Enhanced websites and the soaring popularity of services like click and collect meant that many of us could plan ahead for our Christmas shopping with greater choice and convenience."
Diane Wehrle of retail analyst Springboard said trade in out of town retail parks held up better than in the high street, and that the weather may also have been a factor in the decline.
She said: "The combination of the emphasis by retailers to drive online sales, and the discounting introduced by retailers early on in the month, meant that shoppers delayed visits to retail destinations until as late as possible which adversely affected footfall early in on the month.
"Then, over the last weekend before Christmas, severe weather suppressed what retailers hoped would be the last burst of peak trading activity, so that footfall did not have an opportunity to recover before the holiday period."
In England, the worst decline was in the south west, where footfall was down 3.4%. Wales saw a drop of 3.8% while Northern Ireland saw an 8.7% slump.
A Scottish government spokeswoman said: "The latest Retail Sales Index statistics for Q3 showed that retail sales performance have continued to grow over the past year and we would hope this continues in Q4.
"The SRC footfall figures show that Scotland fared better that the rest of the UK but also highlights the challenge facing the retail sector with the continued move of shoppers from high street to online."