Semichem and Fragrance House stores to close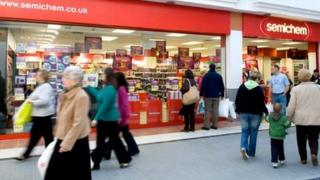 Scotmid has announced plans to close seven Semichem outlets and all six of its Fragrance House stores, with the loss of about 90 jobs.
The closures include Scottish Semichem stores in Dundee, Dunfermline, Glasgow, Edinburgh and Livingston.
The Fragrance House outlets are based in Aberdeen, Falkirk, Livingston, Dundee and Glasgow.
The job losses will include roles at the Semichem warehouse in Livingston and head office support services.
The Semichem stores will close between now and March.
'Challenging times'
Scotmid said it planned to convert all the Fragrance House stores to Semichem clearance outlets until leases expire "during a managed exit".
Scotmid chief executive John Brodie said: "Companies across the UK have been facing some of the most challenging times in a generation, with some organisations putting unprofitable parts of their business into administration.
"In contrast, Scotmid has fought to keep a number of unprofitable Semichem stores open by negotiating more favourable lease deals with landlords.
"This year will see a significant proportion of the Semichem estate with lease breaks and this gives us a number of options in deciding the future of certain stores.
"If landlords can help with more favourable lease deals then stores which are currently unprofitable can be kept open."
He added: "Whilst we are a co-operative, we are also a commercial organisation, which at times has to make difficult but necessary decisions.
"By acting now, we can protect the majority of our workforce, whilst still looking at future opportunities to grow."
Scotmid said discussions were under way to determine if there were opportunities for affected employees in other areas of the co-operative group's business.