Fishery boards urge moratorium on killing salmon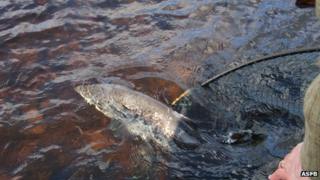 Salmon fishery boards have called for a moratorium on the killing of spring salmon amid fears that some stocks this year may not be sustainable.
In an unprecedented move, the Association of Salmon Fishery Boards (ASFB) urged fishermen not to kill any salmon in Scotland - either by nets or rods - until at least mid-May.
It warned the number of returning adults was very low in some areas.
The call has come as anglers prepare for the new salmon fishing season.
ASFB chairman Alasdair Laing said: "Numbers of returning adults are so low that some stocks of spring salmon are close to, or below, being self-sustaining; the earliest running fish are the most vulnerable.
"It is a well-established management principle that breeding fish should not be killed where a stock is threatened or vulnerable. On that basis it is the ASFB recommendation that no fish should be killed before 15 May."
'Zero exploitation'
He added: "Where local evidence demonstrates that additional protection is required, District Salmon Fishery Boards (DSFBs) may wish to maintain a zero exploitation policy for a longer period.
"Over recent years very high levels of catch and release have been achieved during the spring, largely through voluntary policies and we are encouraging all DSFBs to ensure that their conservation policies reflect this position".
Nick Yonge, from the River Tweed Commission, said: "The Tweed has very small stocks of spring salmon; these are distinct breeding populations of fish and we know that there are only just enough of them to sustain the populations.
"Without our Spring Conservation Scheme, which prohibits killing rod-caught spring fish, in some years there would be insufficient breeders to keep these stocks sustainable".
The Scottish government said district salmon fishery boards had responsibility for local management of salmon fisheries.
'Significant support'
A spokesman said: "Ministers encourage all parties to work together to develop and implement local agreements which pay due heed to conservation requirements.
"In recent years significant support has been shown by both netsmen and anglers to protect vulnerable early stock components - the Scottish government strongly supports these voluntary conservation measures, which have delivered high levels of catch and release and voluntary delay of netting activity to protect spring stock."
Earlier this month, Spey Fishery Board reported that last year was one of the most challenging in recent times for anglers on some of Scotland's rivers.
Salmon catches on the Spey in 2013 numbered 5,780 against a 10-year average of 9,000 fish.
The board said fewer catches were made on rivers across Scotland, in part as a result of low water levels following long spells of dry summer weather.