Home building in Scotland continuing to improve says Rics survey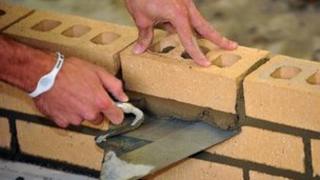 House building has been showing continued signs of revival, according to a construction industry survey.
The Royal Institution of Chartered Surveyors (Rics) said that its members in Scotland were also seeing improved infrastructure work.
More of them said they expected to see an improvement this year, with fewer anticipating a decline.
However, the industry body warned of skill shortages as demand for construction workers picks up.
A total of 25 Scottish home building firms and businesses responded to the UK-wide Rics survey.
They indicated that as the recovery in the construction industry gets under way, skills shortages are already being identified as a constraint on activity.
More than a quarter of firms claimed that a lack of quantity surveyors was restricting building, with shortages also increasing across all of the trades in Scotland.
Infrastructure construction, a core priority of the Scottish government's economic plan, was showing signs of picking up speed with 17% of respondents reporting a growth in activity.
Sarah Speirs, Director Rics Scotland, said: "With the economic outlook looking more positive in recent months, it would seem that the construction industry has followed suit and activity is up right across Scotland.
"More homes are being built, the investment in infrastructure is being recognised and workloads for the next year look positive.
"There is a long was to go for the industry to regain traction and concerns regarding skills need to be addressed, however, these figures show welcome progression."