Shop till the retailers drop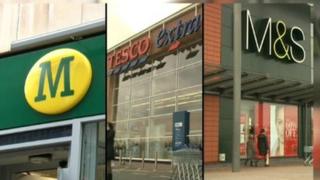 The Christmas shopping picture is now getting clearer, following trading updates from many big players, and the message is that... well, it's mixed.
This is a reminder that, as the economy moves into recovery mode, there will be winners from new growth, but losers too. That depends on how well they've prepared for new opportunities, and how well they've judged the structural changes in consumer behaviour.
There are several drivers of change. The big structural one is in e-commerce - online, and even more so in mobile sales.
They're not the same. Mobile allows more impulsive buying, and smart phone technology allows customers to browse in shops and compare prices down the street or in online rivals.
Convenience
The growth numbers are big for Christmas e-commerce. They were up by 14% for Tesco. Sainsburys Christmas food ordering topped 100,000, up 24% on last year. Waitrose online ordering was up 33%.
Asda reported two days when it sold more than £5m in online groceries (though being part of US-based Walmart, it isn't giving much away as part of this British reporting cycle, a factor that also keeps Amazon's numbers something of a mystery).
Morrisons, with Christmas sales down a grim 5.6%, is yet to start up online delivery, and has been very slow to open up the convenience store format that's propping up its rivals' market shares. It has only 85 convenience stores so far.
Away from food, the e-commerce growth is plain to see as well. M&S.com was up 24% at Christmas. Next, which is now valued more highly than Marks & Spencer, saw growth of 21% from 1 November to Christmas Eve.
House of Fraser saw 60% growth in online sales, and even more from mobile and tablet orders. John Lewis 'click and collect', mixing online with its stores, was also 60% up on Christmas 2012.
Debenhams issued a profit warning and parted company with its finance director after a dismal Christmas. But its online division is doing something right. E-sales continued to grow, by 27.0% for the 17 weeks up to New Year. That now represents 16% of total sales.
It's some way from conventional retail, but if you want to see that mobile impact at its strongest, Domino's Pizza saw mobile ordering treble in 2012, then double during last year, to reach 30% of all orders, while online accounts for another third.
But it's not all one-way traffic. Strong online sales carry big delivery and return costs. While Debenhams saw online sales growth, it went on to admit that "online delivery income was lower than anticipated".
Squeezed middle
Among the other big changes in consumer behaviour is a move up and down-market, leaving the middle market squeezed. Waitrose counts as up-market for groceries, as does M&S - and both did well. Majestic Wines sales were up, particularly for bottles priced above £20.
At the lower end of the range, Aldi and Lidl have said they had a strong Christmas. Tesco, which straddles a huge chunk of the market, but with its strengths in the middle, has not been having a happy time at all. And while others have seen new store openings helping keep their figures up, Tesco has deliberately pulled back on expansion, with a new strategy to retrench and retain its dominant share.
Morrisons lacks convenience and online offerings, but it also suffers from exposure to less well-off parts of the country, including Scotland. By contrast, Sainsburys has a bias to the south-east, helping explain why its figures looked much better than its mainstream rivals.
Behind it is an aggregate fall in the amount of food people are buying. Those sales increases for some are not, overall, as high as food inflation. It means the key to food sales is a fight for market share. Discounting, vouchers and price match promises are key to bringing in price-conscious shoppers. Sainsburys, while doing relatively well, is warning of a tough 2014.
Panic button
Another factor behind these results is discounting ahead of Christmas. The downturn has shaken up the old model of full price until Boxing Day, when the winter sales kicked in.
Marks & Spencer, struggling particularly with its clothing, suffered a loss of investor confidence because of its sudden one-day sale offers. Asda's boss pointedly said it had "held its nerve", "avoided gimmicks", while others "hit the panic button".
To fight for custom ahead of Christmas, shops were opting to offer sudden sales days, or selective offers. One analysis of shops in the week before Christmas, by PwC, found 72% of retailers were having sales or offering discounts. That had risen through the month. Average discounts were higher than 2012, at 46%. The extent of sales was only slightly below the fire sale Christmas of 2008, when 80% of shops were offering discounts to shift stock.
The retail consultants said consumers and retailers are playing a game of chicken, with shoppers expecting offers or holding off until the winter sales. After a strong summer, spending was sharply down in October, and only some stores benefited from the anticipated late Christmas rush, including Sainsburys and the Co-op.
This may not be not much of a long-term strategy for many multiple retailers, as the previous system of staying full price until Christmas was the point of the year when they made their profits.
Managing the business across sales channels, and getting stock levels right is getting much tougher. But with structural change in retailing, any continued recovery is going to force them to change conventional thinking, and across all fronts.