Aberdeen company Dolphin Drilling wins £155m contract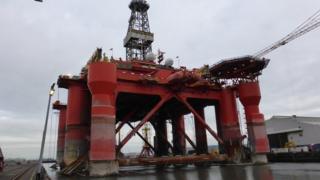 Aberdeen-based Dolphin Drilling has won a contract from Chevron North Sea Limited which has been valued at £155m.
It will see the semi-submersible Blackford Dolphin being put into service for Chevron for a minimum of 18 months in the UK sector of the North Sea.
The work will begin in the second quarter of 2015.
The Blackford Dolphin is currently in dry dock in Belfast after undertaking operations in Brazil.
Dolphin Drilling Managing Director Graeme Murray said: "Bringing the Blackford Dolphin back from Brazil was a strategic decision and enables us to respond to demand. The latest contract demonstrates the North Sea requirement and we now effectively have a three year programme in place for this unit.
"That is valuable to us as we look to the future. We have ambitious growth and investment plans and are well placed to embrace the opportunities we forecast for the months and years ahead.
"We hope that the UK can provide a continued future platform for these investment opportunities."
The Blackford Dolphin contract gives Chevron the option of extending the agreement for a period of between 300 and 700 days.
The contract value includes a sum set aside for rig upgrades.