VisitScotland launches campaign for Homecoming Scotland 2014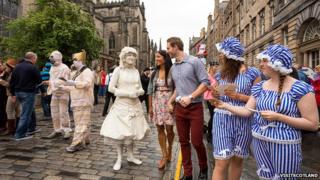 A new marketing campaign has been launched to encourage "local" interest in Homecoming Scotland 2014 events.
It will be aimed at people in Scotland, Northern Ireland and the north of England.
VisitScotland is backing a £500,000 campaign, which includes TV advertising, press, radio, digital and promotional activity.
At its launch, VisitScotland chairman Mike Cantlay said 2014 would be a "truly amazing year".
Revealing the television advert at the Filmhouse in Edinburgh, tourism minister Fergus Ewing said the Homecoming events were a "huge opportunity".
He added: "We have already seen Lonely Planet name Scotland as one of the three top countries in the world to visit in 2014. CNN recently listed Edinburgh as a top ten city to visit this winter.
"This fantastic news further adds to the momentum building through spectacular events such as last week's Hogmanay celebrations.
"The Doorsteps TV advert showcases some of the other inspirational events and activities happening across Scotland in 2014 and warmly invites our people and visitors closer to home to join the celebration."
Television
The advert features different family groups stepping out of the front doors into events forming part of the Homecoming programme.
It was created by Edinburgh-based The Leith Agency and directed by Martin Wedderburn.
The initial run for the television campaign will be 8-27 January.
Mr Cantlay commented: "Homecoming is not only about Scottish people welcoming others from around the world to celebrate their home country, it's about Scots themselves, opening their doors to the rich culture and history all around them.
"It's going to be a truly amazing year."
Major events in Scotland in 2014 include the Ryder Cup, the Commonwealth Games and the MTV Europe awards.