Car sales in Scotland surge by 12.5%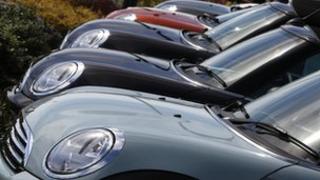 The number of new cars registered in Scotland last year rose by 12.5%, according to the Society of Motor Manufacturers and Traders.
That increase, up to nearly 205,000 cars, is slightly stronger than growth in new car sales across the rest of the UK.
The Scottish growth was strongest in the south-west, north-east and Highlands.
The 2013 top ten seller list was dominated again by Vauxhall.
It sold 27,739 over the year with the Corsa model the best seller overall.
Ford and Volkswagen came in second and third respectively on the seller list.
Douglas Robertson, chief executive of the Scottish Motor Trade Association said: "We are delighted to have passed the 200,000 mark for new car registrations in Scotland for the first time since 2007 though we are still some 10,000 short of the all-time high of 215,000 in 2004.
"It has been an extremely encouraging year for the industry in Scotland and whilst we don't anticipate a similar increase in 2014 we do expect to see new car registrations of around 207,500 in the year as the market stabilizes."
He added: "As the credit squeeze eases we believe SMTA dealers will continue to offer excellent deals for consumers and with more and more concentration on fuel efficiency amongst new car manufacturers, we would anticipate consumers seeing a continuing reduction in the cost of running a new car"
The figures also revealed the numbers of luxury cars sold last year held up. There were 48 Aston Martins sold, 62 Bentleys, 22 Maseratis and three Lamborghinis.