Scottish business activity 'surge' continues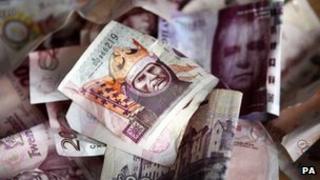 Scottish business continued to report growth in turnover during the autumn, according to new survey evidence.
The survey showed the very strong improvement in the summer continued during the autumn.
Some 37% of firms reported rising turnover, while 22% said it was down.
This positive balance of 15 percentage points was lower than the 22 points in the last quarter, according to the Bank of Scotland's quarterly monitor.
Volumes of repeat business were up strongly in the summer, and stayed there in the autumn.
However, the report showed exports remained weak, with a 14-point negative gap on autumn exports.
'Year of growth'
The balance of bosses' opinion was found to be positive about prospects for the early part of 2014, including a significant improvement in export performance to a 21-point positive gap.
The balance was 19 percentage points to the positive on expectations of total volume of business in December to February 2014.
Bank of Scotland chief economist Donald MacRae said: "The surge in economic activity identified in summer 2013 has been maintained through to autumn with the latest quarter showing the second best result in six years.
"As a result, the Scottish economy should record a year of growth in 2013."
He added: "Expectations for 2014 remain high, suggesting the recovery will continue into 2014. Consolidation of the recovery would be enhanced by firms increasing investment."
The monitor also asked about the role of online activity for firms. It showed only 73% of service companies had websites, while 91% had an email address.
Of service companies, 18% took most of their orders through their websites, but only 10% of payments.