Publisher DC Thomson reports fall in profits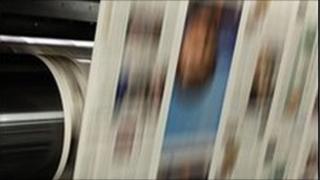 Dundee-based publisher DC Thomson has reported a fall in profits, mainly due to a loss at its book publishing division.
Group revenue of the company behind the Beano and Sunday Post fell from £272m in the year to March 2012 to £252m in its most recent financial year.
Pre-tax profits fell from £31.1m to £23.7m.
Paragon Publishers had its goodwill valuation written down from £62m to £37m.
The group accounts, made available through Companies House, said it had been a difficult year in all its book markets, but especially Europe and Australia, with an operating loss of £1m on £85m of turnover.
Price rises
Paragon operates internationally in own-brand books and under licence. It has suffered a fall in sales, competitors were shedding stock at lower margins, and there were "significant bad debts" with European customers.
DC Thomson is better known in Britain as a newspaper and magazine publisher, and that division saw turnover fall from £127m to £122m.
The group's newspapers - including the Dundee Courier and the Press and Journal, and evening titles in Dundee and Aberdeen - saw revenue sustained, as cover price rises offset declines in circulation.
Total advertising revenue in both newspapers and magazines business was down by nearly 5%, which the group accounts said compared "favourably with competitor trends".
The closure of print plants in Glasgow and Aberdeen, with the start of new printing presses in Dundee, helped to improve underlying profits.
Its online business also saw turnover drop from £24m to £22m, partly due to falling revenue at the Friends Reunited web business which had been bought from ITV.
Family history
However, the Dundee company says it has investment plans for online genealogy in the US, with use of the findmypast.com website, based around the 1940 US census. It is also developing data for people of Irish descent.
With a recent rebranding from brightsolid to DC Thomson Family History, it aims to be the largest UK family history library. It also has a contract to scan eight million more pages for the British Newspaper Archive.
Future plans for DC Thomson, which see it diversify away from dependence on publishing, also feature investment in innovation centres for start-up companies in Dundee and London.
It also handles substantial financial assets, including pension and strategic investments in media, publishing and retail, with the total asset valuation at £568m by last March, up from £509m the year before.
The average number of employees in the year to March was down, at nearly 1,900. The highest paid director earned £189,000, though directors also benefit as Thomson family members, who benefited from £17.7m of profit distribution, approved at last month's annual general meeting.