Productivity warning from Scottish government economist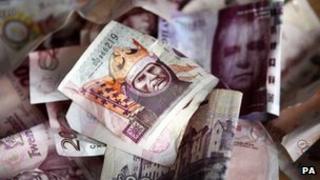 A rise in productivity from Scottish workers is needed, a government economist has warned.
The chief economic adviser to the Scottish government, Gary Gillespie, said this would be needed to sustain economic recovery.
He also pointed out the impact on Scotland's output figures of the dispute at the Grangemouth complex.
His latest "state of the economy" report highlights the country's dependence on consumer demand.
He said real wages needed to return to growth.
Dr Gillespie argued one key factor in achieving that is a rise in productivity, which would be helped by a return to businesses investing in plant and equipment.
Total demand for goods and services would also be helped by getting more people into jobs.
Dr Gillespie said: "In common with the rest of the UK, sustaining the recovery in Scotland into the medium term will require a sustained pick-up in employment, productivity and real wages, the underlying drivers of household income and consumption.
"Alongside this, there is a need for growth to be broadened across investment and net trade (exports), particularly given that government spending is expected to remain subdued for the foreseeable future."
His assessment is that output in the coming year could return to the levels before the downturn began in 2008.
There is a "more positive outlook for 2014," he said. "With a supporting external environment, indications are that Scotland's recovery will continue to gain momentum in the forthcoming year."
Winter figures
Drawing on independent economic forecasts, which have been revised upwards in recent months, he said the Scottish economy is on track to rise by 1.6% this year, and by 1.8% in 2014.
His report includes a warning about shutdown of the Grangemouth complex in October, saying may hit the economic figures for this winter.
The growth figures for the final quarter of 2013 will not be published until April. Much of Grangemouth was shut down in response to a union strike threat in October.
Although the strike threat was lifted and the dispute resolved, operators Ineos warned that it could take until Christmas to get operations up to speed again.
Grangemouth refinery and petro-chemical plant are together reckoned to contribute around half of one per cent to the output of the Scottish economy.
Including indirect effects, that reaches a contribution of £1bn per year to the Scottish economy, or 1% of the Scottish total output.
Dr Gillespie said that while recovery progresses "challenges for individual plants and firms could still occur, for example as a result of longer term structural changes in specific sectors, giving rise to local issues which may in turn feed through to the general economy."