Johnston Press helped by lenders to refinance debt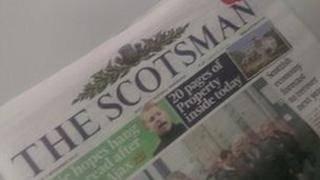 Johnston Press, the newspaper and online publisher, has been helped by its lenders to ease the pressure of managing its debt.
The company, whose titles include The Scotsman and the Yorkshire Post, said it planned to refinance during 2014.
The Edinburgh-based company was labouring under the weight of £306m debt at the end of June.
After years of sharp cost-cutting, continuing this year with a 10% cut, debt fell from £362m in June 2012.
The company warned earlier this year that it might not be able to continue as a going concern if its recovery plan did not stay on track.
But in a statement issued on Friday, Johnston Press said it had secured agreement from its lenders to "reset its financial covenants through to the maturity of its debt facilities in September 2015".
This is understood to mean that lenders have accepted the baseline for the company's earnings has changed, and the thresholds required for the loan conditions have been altered to fit with the company's reduced revenue.
Relaunch
The statement went on to say the new loan conditions give a "stable financial platform... to pursue a refinancing of these debt facilities in 2014".
The company is relaunching its titles, including a new-look to The Scotsman in January, following several journalist redundancies.
It has also been in talks to sell its 14 local titles in Ireland.
And Johnston Press has been reported that the company is moving out of the Edinburgh headquarters it shares with The Scotsman's newspaper, because there are far fewer staff on its flagship title.
The company has not commented on that move.
However, commenting on the intended refinancing, Johnston Press CEO Ashley Highfield said: "I am pleased with the ongoing support shown by our lender group in providing a clear path for the continued pursuit of our operational strategy, which has shown very encouraging developments in 2013.
"We plan to refinance the group in 2014 and will continue to work closely with our lenders and their financial advisers for that process.
"A stable medium-term capital structure will support the acceleration of our digital growth strategy and would expedite the projected return to overall top line growth."
The firm's refinancing effort is being advised by Rothschilds.