Scottish beer maker BrewDog hits crowdfunding target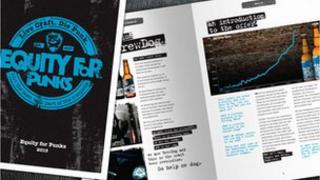 BrewDog has announced it has secured its £4.25m target for investment from its customers.
The fast-growing Aberdeenshire brewery sourced the money through a crowdfunding scheme.
More than 8,124 investors signed up for the 42,000 shares put on offer, priced at £95.
The brewers set out to raise £4m last June, and raised quarter of that within 24 hours. They subsequently increased the target by a further £250,000.
The so-called Equity for Punks scheme was publicised in the summer by a tank being driven around the City of London, followed by a squad of the brewery's customer-investors.
The company has announced it reached the increased target of £4.25m a month ahead of deadline.
Co-founder of BrewDog, James Watt, said: "Closing early only goes to show just how passionate and evangelic our fans are.
"We can't wait to return the trust our investors and fans have shown in us with more awesome beers, bars and growth in 2014.
"Christmas has come a couple of days early for all of us."
He said three successful rounds of the scheme showed that crowdfunding had become a "worthwhile and innovative means for business growth".
'Brave new world'
"The mental shackles that have tied down British small and medium-sized businesses to the staid and unimaginative traditional methods of raising funds have been untethered," he said.
"We have ushered in a brave new world, and you can expect to see more businesses launching similar schemes in 2014.
"Crowdfunding is no longer just a fad or buzzword, it is a legitimate alternative financial system."
BrewDog was founded in Fraserburgh and now has a brewery in Ellon. It employs 200 people, and expects turnover this year of £13m.
It has expanded from small batch brewing into running pubs. It recently opened its first overseas outlet in Sweden.
Following the latest fundraising round, its three rounds of crowdfunding have raised £7m through 14,691 "fanvestors" buying shares.