Tributes paid to Battle of Britain pilot Norman Brown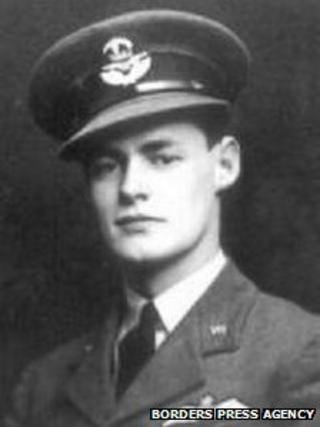 Tributes have been paid to a Spitfire pilot who fought in the Battle of Britain, following his death aged 94.
Norman Brown was the last known surviving member of 41 Squadron based at Hornchurch, Essex, who heroically defended Britain's skies in 1940.
A memorial service was held on Saturday in the Old Parish Church in Peebles where he had lived in retirement.
Mr Brown passed away peacefully at Borders General Hospital, near Melrose, on Tuesday.
A cremation service is set to follow at a later date.
In a tribute his family said: "He was a gentleman in the true sense of the word and never let personal setbacks diminish his wit and sense of honour."
Mr Brown joined the RAF Volunteer Reserve in August 1939 as an airman/pilot and was called up the following month.
He initially served in Hastings before being transferred to Derby in April 1940.
Eventually after converting to Spitfires, he moved to 41 Squadron on October 12, 1940.
He was one of a flight of Spitfires that overshot Hornchurch in poor visibility on 1 November and went into the London Barrage Balloon area.
Mr Brown struck a cable, seriously damaging his aircraft. He made a forced landing on a small piece of open ground in the built-up area of Dagenham.
He left the squadron in late February 1941 and left the RAF in April of that year. He spent the remainder of the war working in the timber industry.
The father-of-two's entire working career was spent in forestry and he rose to District Commissioner for the West of Scotland with the Forestry Commission.