Grangemouth: Ineos says most staff accept revised deal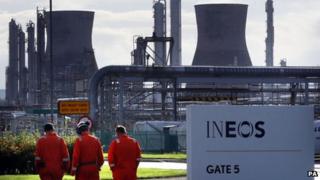 The owner of Grangemouth refinery and petrochemical plant has announced "almost the entire workforce" of 1,350 people have agreed to revised pensions and contract conditions by Friday's deadline.
It follows a bitter dispute during which the workforce refused to accept the changes.
That provoked a decision by Ineos in October to close the plant.
However, that was later reversed when the Unite union backed down.
Ineos director Calum MacLean said the agreement from most staff was "the next milestone" in securing new investment of £300m at Grangemouth, which would allow the company to continue trading and build a new terminal to import shale gas from the USA.
As part of the new arrangements, the company confirmed current salaries for the existing workforce would remain unchanged.
'Important step'
Ineos Grangemouth (UK) chairman Calum MacLean said: "This is another important step in the rebirth of the Grangemouth site.
"With our costs coming under control, the shareholders are committed to making good on their promise of a £300m investment, which will allow us to build a new terminal and use US shale gas as a new raw material for the petrochemicals site."
In a statement, Ineos also said it would more than double the number of apprentices and new graduate recruits it is hiring over the next three years.
Mr MacLean added: "There is now a growing belief in the future of the plant. I look forward to a new era of cooperation and teamwork at Grangemouth."
Earlier this month, Ineos announced plans to build a new ethane tank at the site, in order to receive gas from the United States.
Imports could begin as early as 2016 after a £150m investment to an import terminal project.
The move would supplement declining North Sea supplies, the company said.