Flights between Glasgow and Isle of Man to resume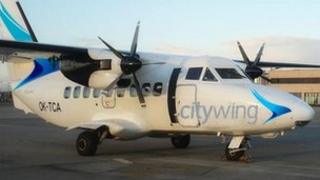 Direct flights between Glasgow and the Isle of Man are to resume next spring.
First Minister Alex Salmond and the Isle of Man Chief Minister Allan Bell met in July and pledged to restore the link ahead of the Commonwealth Games in Glasgow next year.
From the end of March 2014, there will be nine flights a week from Glasgow Airport.
They will be operated by Citywing, with a view to increasing the number of services as demand .
Mr Salmond said: "I'd like to congratulate Glasgow Airport on their efforts in securing this route.
"I'm pleased to say that the service will, in fact, be back up and running well before the summer as it was simply too important a connection to lose.
"Next year will see special events in Scotland and the Isle of Man. The Commonwealth Games in Glasgow will see a team from the Isle of Man competing and the TT race on the island is always popular.
"These flights will serve as a symbol of the close historical and cultural links between Scotland and the Isle of Man, providing a boost to tourism and business on both sides of the water."
Mr Bell added: "This is good news for the Isle of Man as a centre for business and tourism, and it can only reinforce the valued social and economic connections that exist between the Scots and the Manx.
"We look forward to welcoming more visitors from Scotland in 2014, and to flying the Three Legs flag at the Commonwealth Games in Glasgow next summer."
Amanda McMillan, managing director of Glasgow Airport, said: "Citywing's nine weekly flights will safeguard Scotland's important links with the Manx economy and, perhaps more importantly, they will be operational in time for the 2014 Commonwealth Games.
Citywing managing director David Buck said: "There is a long history of business, social and cultural links between the two.
"The Isle of Man, like Scotland, promises a warm and friendly welcome. We very much hope that passengers will take advantage of our new direct service and discover what our lovely island has to offer."