Ibrox bosses go to extra time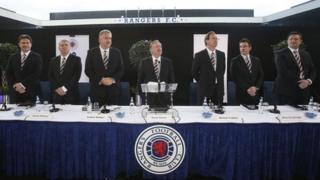 It seems there were two strategies for running Rangers: living a lot beyond its means, or doing so rather less.
The people who have been burning through the club's capital, plus people recently recruited to the board to stabilise it, have won the day at the club's annual general meeting. But the indications are that they've now set out on Plan B - having to cut costs and to raise new funds.
The challengers to the directors, or requisitioners (which always sounded to me like something from the Spanish Inquisition) have failed to get enough support. The four nominees each secured about 30% support from shareholders. Now, it's not clear that they have anywhere else to go.
But the directors who were re-elected with support of between 65% and 85% know from those numbers, and from the mood of the AGM, that it's far from overwhelming victory.
Unhappy customers
A big minority of shareholders are not happy about things. They voted against them, and - because this is football rather than merely business - they care enough about the club not to walk away. Many are also customers, and influence other customers, and that should worry any business.
Their challenge to the incumbent directors has partly been about clashing personalities and, let's say, business styles. The board, by the admission of the succession of people quitting it earlier this year, has been utterly dysfunctional.
There's been no agreement on a clear business strategy. And investors are understandably unhappy at the pace at which Rangers has been spending.
That's one reason why the finance director, Brian Stockbridge, has been a lightning rod for criticism, and only got 65% backing from shareholders.
It was admitted at the AGM, and it was already clear, that the club has been living well beyond its means. And that's undermined the value of investors' stakes.
Shares, which cost 70p, started trading on the Alternative Investment Market a year ago today, at 75p. They quickly rose to a peak of 93p, but they've fallen a long way since then, today trading at 34p. Yes, that's less than half the value of a year ago.
Robust plan
In response, the new chairman and chief executive say they are producing a "robust business planning process".
That concedes there isn't one in place. Indeed, it tells us that not only did their predecessors fail to leave a robust plan, but it also implies there was no process for planning either.
That's linked to a Football Player Asset Strategy - not only the first team, but youth development and scouting for youth talent, which appears to have been absent. With cost cuts ahead, don't be surprised if that strategy leads to some senior players leaving during the transfer window next month.
Also the new chief executive, Graham Wallace, says it's "reasonable to assume" that new funding will be needed if Rangers is to get back to the top flight of Scottish football.
No surprise there. But he failed in an attempt at the AGM to get the legal powers he would need to go back to investors during next year for a new tranche of funding. He needed 75% for such a special measure, but only got 68%.
However, Wallace made it clear that he intends to go back to get that power in future. Before then, he is aware that he needs to present investors with a convincing case that Rangers has got a grip on its finances and the way it's run. That's as a functioning and sustainable business with serious management, as much as a football club with passionate supporters.