Unemployment in Scotland falls again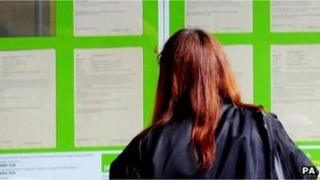 Unemployment in Scotland fell by 7,000 to 196,000 between August and October.
The number of people in employment rose again to a new total of 2,546,000 - which means 83,000 more people are in work than the same period last year.
The Scottish unemployment rate is 7.1% - lower than the UK rate of 7.4%.
Meanwhile in the UK as whole, the jobless total fell by 99,000 to 2.39 million - the lowest level for four and a half years.
The Secretary of State for Scotland Alistair Carmichael said: "Every new job created in Scotland represents someone getting back into work and is to be welcomed.
"Today's figures reinforce how well Scotland is doing as part of the UK and they are good news for people and families across the country."
The Scottish government said the latest figures showed that the number of women in employment in Scotland had reached a 21-year high at 1,233,000 - the highest figure since the series began in 1992.
Finance Secretary John Swinney said: "These figures are another positive sign that employment in Scotland continues to increase and that Scotland's economic recovery is ongoing.
"Scotland has a higher employment rate, lower unemployment rate and lower inactivity rate than England, Wales or Northern Ireland.
"Consistent growth in employment shows that the policies of the Scottish Government to create jobs and boost the economy are making progress."