Edinburgh-based Apex Hotels reports strong growth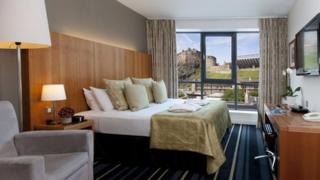 Edinburgh-based hotel chain Apex has reported a sharp rise in revenues and profits.
The group, which operates eight 4-star hotels in Edinburgh, Dundee and London, saw turnover grow 21% to £50.6m in the year to the end of April.
Profits were also higher - growing by £1.4m to £7m.
Apex said its results had been driven by the successful launch of Apex Temple Court Hotel, the group's third London property, in March 2012.
It generated £10m of turnover in its first full year of trading.
Five of the group's hotels are based in Scotland, with four in Edinburgh and one in Dundee.
Apex said turnover for most of its portfolio "proved challenging" during the early part of the year as occupancy levels struggled to gain momentum.
However, the second half of the year was "more buoyant", with all of its hotels experiencing an upturn in trading as a result of increased demand for hotel rooms and conferences and events.
'Solid growth'
Over the past year, Apex has entered into ground rent lease transactions over four of its hotels, giving the group uninterrupted rights to operate the properties for the next 150 years.
A total of £35m generated from the deals has been used to repay bank borrowings.
In October, Apex secured a new banking facility with RBS to consolidate existing loans.
Managing director Angela Vickers said: "Despite the unpredictable nature of the business during the early part of the year from events such as the Jubilee and the London Olympics, the group has once again demonstrated solid growth in turnover and in profitability.
"We are continuing to experience strong growth in occupancy and increased demand for the Apex brand.
"The completion of the ground rent lease transactions, together with the debt refinancing, have strengthened our financial position, and we remain focused upon a programme of ongoing investment in the current portfolio, together with the pursuit of additional growth opportunities".