Sport events boost for temporary power firm Aggreko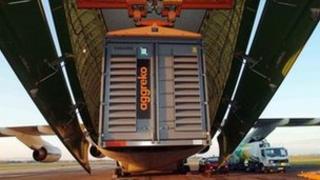 Generator supplier Aggreko has confirmed that it has been chosen to supply temporary power to the Glasgow 2014 Commonwealth Games.
It has also won a similar contract for the World Cup in Brazil.
The Glasgow-based company's performance has taken a dip in 2013, partly because an exceptionally busy 2012, which included the London Olympics.
In a trading update, Aggreko said it now expected full-year results to be slightly ahead of expectations.
Revenues are projected to be £1.57bn, broadly in line with the previous year.
Pre-tax profits have been forecast to be "at least £335m", a slight fall on last year's £365m.
A company statement said: "We are delighted to report that we have been chosen as the supplier of temporary power for the 2014 Fifa World Cup and the Glasgow 2014 Commonwealth Games."
According to Aggreko, stripping out the 2012 Olympics and other factors meant that, on an underlying basis, revenues for 2013 would be up by 3%.
It reported growing turnover in Europe, the Middle East and Africa, as well as the Americas.
In Japan, however, there was a decline of 12%.
Its power projects arm will see revenues down by about 2%.