Decline in Scottish shopper numbers slows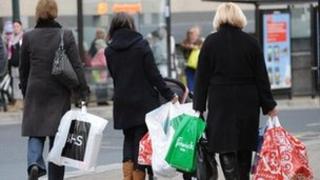 Retailers in Scotland have reported a further year-on-year decline in footfall for November.
A report by Springboard and the Scottish Retail Consortium (SRC) found the number of people visiting shops was down 0.3%, compared with November 2012.
The figure represented an improvement on October, when the year-on-year figure was down 2.7%.
Scotland outperformed the UK as a whole in November, where the figure for the month was down 2.9% year-on-year.
SRC head of policy David Martin said: "Although still marginally down on 2012, it's encouraging to see that footfall recovered significantly in November after a steep drop in the previous month."
The consortium's most recent retail sales monitor showed total sales for November increased slightly by 1.6% compared to last year.
Mr Martin added: "As we saw from last week's monitor, increased numbers of Scottish shoppers haven't yet started translating into a notable pick-up in sales.
"Many customers remain cautious and cash conscious and may have been holding off on much of their seasonal spending until December ushered in the final countdown to Christmas.
"There are other factors at play too: enhanced multichannel offers and the fact that Christmas falls on Wednesday this year are changing customer habits and giving people the confidence to leave much of their spending until later.
"We would certainly expect this tentative boost to build as people finalise their festive shopping over the coming days."