Amor Group changes name to Lockheed Martin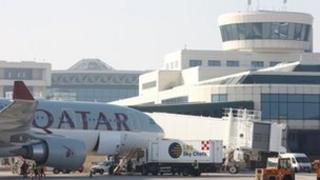 Renfrewshire-based IT company Amor Group has changed its name to Lockheed Martin, three months after being bought by the American security, aerospace and technology giant.
Amor became part of Lockheed Martin's Information Systems and Global Solutions business following the acquisition in September.
It handles IT for sectors such as transport, energy and public services.
Ownership of Amor has doubled the size of Lockheed Martin UK's ICT workforce.
One of Amor's major investors was the investment arm of Scottish Enterprise.
In a statement, Lockheed Martin said the acquisition had given it access to technology innovations such as Amor's Chroma airport suite, which brings together monitoring systems for operations such as flight information and passenger movement.
It also highlighted Amor's experience in Process Safety and Information Management in the energy sector.
Mark Cooper, managing director of Lockheed Martin UK ICT business, said: "When we acquired Amor we knew we were getting a company that had a tremendous record of growth driven by a strong culture and a determination to succeed.
"These are all values that we share at Lockheed Martin and we are excited at the opportunities for continued growth."
In its annual results for 2012, Inchinnan-based Amor reported a fourth year of strong growth, with revenue up 27% to £57m and trading profit up 22% to £8.1m.
Its contracts include providing passenger tracking technology for Toronto Pearson Airport, as well as airports in Norway, Milan, Geneva, Manchester and Dubai.