Stagecoach looks to US for expansion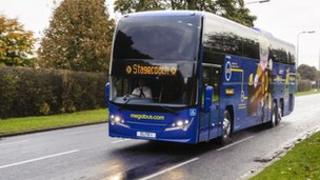 Transport firm Stagecoach has reported a small rise in half-year profits and said there was "significant potential" to expand in the US.
The company made pre-tax profits of £98.5m to 31 October compared with £96.9m in 2012.
The Perth-based group said its megabus services in the UK, mainland Europe and the US had "an exciting future ahead" as people got "back on board the bus".
It also said the UK rail franchising programme was "moving once again".
Stagecoach along with its rail partner Virgin was caught up in the franchise debacle on the West Coast line.
Last year the Department for Transport (DfT) scrapped the award of the West Coast franchise, after mistakes were made in the bidding process.
An official report blamed a "damning failure" by the DfT, which has since revised the tendering process.
Stagecoach chairman Sir Brian Souter said: "Franchising has always been an evolving model and there are positive signs that the government has listened to the ideas of industry and other stakeholders on how it can continue to deliver for passengers and taxpayers."
The group said its rail and bus operations had performed well over the six month period but saw future growth for its megabus operations.
It said people were increasingly ditching cars in favour of travelling by bus and coach in the UK and US, where it operates about 2,800 buses and coaches, including its megabus operation linking about 100 locations.
Stagecoach chief executive, Martin Griffiths, commented: "We see significant potential to expand our presence in the US, where we already operate in 40 states.
"We are also considering opportunities to roll-out our premium day and overnight services to new locations."