FirstGroup appoints Aviva boss John McFarlane as chairman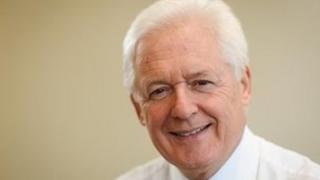 Bus and rail operator FirstGroup has named the boss of insurance group Aviva as its new chairman.
The appointment of Aviva chairman John McFarlane ends a six-month search for a replacement for Martin Gilbert.
Mr Gilbert said in May that he planned to step down after the transport group tapped investors for £615m and cancelled its shareholder dividend.
Mr McFarlane will join the board of FirstGroup immediately and will take on the post of chairman on 1 January.
The appointment comes as Aberdeen-based FirstGroup recovers from a turbulent year.
Its growth plans were derailed when it lost out on a lucrative West Coast Main Line rail franchise in 2012 after the Department for Transport made mistakes in the bidding process.
It reported half-year pre-tax losses of £8m last month, although this was a marked improvement on the £20.6m loss seen a year earlier.
The group, which operates First Great Western, First Capital Connect and First ScotRail, said recently it was getting back on track and hoped to start repaying dividends from the close of its financial year.
The group is pouring £1.6bn into a four-year investment programme and tackling debts of nearly £2bn.
John Sievwright, senior independent non-executive director at FirstGroup, said Mr McFarlane's experience would be "invaluable" to the firm.
He also paid tribute to Mr Gilbert, who has chaired FirstGroup and its predecessor companies for 27 years.
'Short-term challenges'
Mr McFarlane became chairman of Aviva in July 2012, promising to turn it into a "leaner, more agile beast".
He has served as a non-executive director at Royal Bank of Scotland and previously headed Australian and New Zealand banking giant ANZ as chief executive for 10 years.
Mr McFarlane, who was born in Dumfries, said he was pleased to be joining FirstGroup at "an important stage of its evolution".
He added: "The group has short-term challenges which we will naturally need to overcome, but I am convinced it has significant opportunity to benefit from its market-leading positions and to deliver sustainable long-term value for shareholders.
"I look forward to playing a pivotal role in its future."
Analysts at Shore Capital Stockbrokers said Mr McFarlane's appointment at FirstGroup was "very encouraging".
They added: "The swift action and turnaround at Aviva under his executive stewardship is a welcome read across to FirstGroup as it continues to grapple with the previous regime's legacy of underinvestment."