East Fife football club asks crowd for funds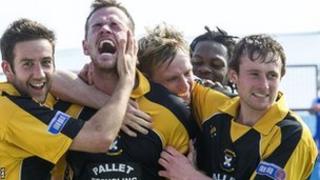 East Fife Football Club has become the first club in Scotland to turn to crowdfunding to raise finance.
The club hopes to attract small sums from a large number of people to raise up to £100,000.
It will be used to develop a new shop, a cafe bar and a 750-seater stand.
Fans who invest will receive one ordinary share in the club and get a range of benefits including season tickets, hospitality packages, access to players and club merchandise.
Lee Murray, a local businessman who took over chairmanship of the club last June, said crowdfunding would allow the club to develop commercially without taking on debt.
He added: "Although the club is operating within its financial means, there is little scope within the budget for capital spend on stadium enhancements and the directors do not believe that incurring significant levels of debt to fund capital projects is the correct approach for the club to take."
East Fife is using a scheme devised and managed by Squareknot, a Glasgow-based crowdfunding company.
Individual projects
Derek Bond, managing director of Squareknot, said: "This is a novel approach to football finance which gives clubs and fans the best of both worlds, first class facilities and financial stability.
"It is designed specifically to allow fans to invest in individual projects rather than in the club as a whole.
"As well as giving them an opportunity improve facilities and their own match experience, it also gives them a say in how their club is run and other tangible benefits including tickets, hospitality and signed kit."
Fans can invest in one or more of the three individual development projects.
The shop will cost £25,000 to build, a further £50,000 is needed for a new cafe bar and £100,000 will result in all three facilities completed.
Two lower league clubs south of the border, Darlington and Kettering Town, have used crowdfunding to stave off bankruptcy but Squareknot says this is a different model designed to "help financially stable clubs to improve facilities and attract new fans".
The company said it was in discussions with other clubs about running similar schemes.