Sculpture marks Glenmorangie's Highland roots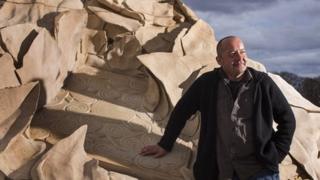 A 20-tonne sculpture has been unveiled outside The Glenmorangie Company's bottling plant in West Lothian as a permanent reminder of the company's Highland roots.
The sculpture is made out of sandstone from around Glenmorangie's distillery in Tain, Ross-shire.
Created by Ross-shire-based artist Barry Grove, it celebrates Scotland's Pictish heritage.
He used only traditional hand tools in creating the work of art.
The sculpture also marks a production milestone at Glenmorangie's Livingston facility, which has produced 20 million bottles since opening in 2010.
The Glenmorangie Distillery was founded in Tain in 1843.
Pictish heritage
Glenmorangie operations director Peter Nelson said: "We are very proud to have a major public artwork by a leading artist sited outside our modern production facility.
"Carved out of 300 million-year-old sandstone from around Glenmorangie's Tain distillery, it celebrates Scotland's Pictish heritage and is a link to our roots in Ross-shire."
Barry Grove said: "The sheer size and scale of this project has presented a real challenge but I wanted to stay true to the spirit of the enterprise by using traditional stonemason's tools.
"The sculpture explores the theme of re-discovery and depicts blowing leaves revealing a symbol of Pictish design and intricate knot-work, the origin of which dates back to AD 800."
The Glenmorangie Company is owned by French luxury goods giant Louis Vuitton Moet Hennessy.