Scottish engineering 'remains buoyant'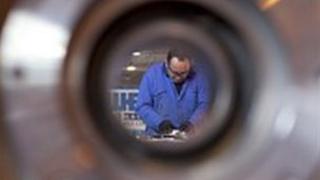 Scotland's engineering sector remains buoyant as 2013 draws to a close, according to the industry body's latest quarterly review.
Scottish Engineering said the high levels of orders had not been maintained from the "exceptionally encouraging" previous quarter.
But there was continuing growth throughout the manufacturing sector, it said.
This had resulted in a higher level of optimism.
The review found that 41% of the companies surveyed had increased their orders over the quarter, with 29% saying orders had fallen and 21% saying they had remained the same.
The report said this was a "marginal" slip from the previous quarter, but remained a "very healthy level".
UK orders (37% up and 27% down) were said to still be healthy, as they have been for the past 15 quarters.
'Tough conditions'
Also for the 15th consecutive quarter, more companies (37%) said they had increased their staffing levels than had seen staffing levels fall (27%).
But export orders in general (29% up and 31% down) returned to negative territory, if only slightly.
Overall output volumes (37% up and 25% down) saw a slight decline while remaining positive, and optimism increased further (40% up and 11% down).
Bryan Buchan, chief executive of Scottish Engineering, said: "While we continue to see improvements on the whole, there are still areas where our member companies are finding that trading conditions are tough.
"Fabricators and metal manufacturers in particular are seeing order levels drop.
"One area where I am very encouraged is in the collaborative efforts of the universities and colleges with industry.
"The Strathclyde Engineering Academy that was launched recently by the Education Secretary Michael Russell will hopefully bear fruit in providing companies with industry-ready graduates."
Scottish Enterprise Minister Fergus Ewing said: "I welcome these figures which show continued buoyancy in Scotland's manufactured engineering sector and point to further improvement with order intake, output volumes, staffing and optimism all increasing in this fourth quarter.
"These statistics follow on from October's PMI which indicated a good start to the fourth quarter, reporting that private sector output in Scotland continued to expand at a robust rate."