Scotgold warns of funding problems over Cononish mine plans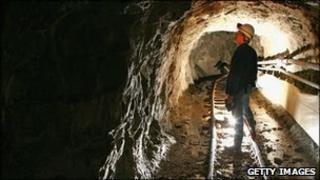 The company behind proposals to reopen a gold mine in Stirlingshire has warned that raising finance continues to be a problem.
Scotgold Resources said it had been difficult to get the funding to develop the Cononish mine near Tyndrum.
The company announced a rights issue in order to raise about £470,000.
Scotgold said it was considering scaling back on its ambitions and cutting costs by mining a smaller area with higher grade metal.
It was also announced that Australian explorer Luiri Gold, which took a small stake in Scotgold, would not be pursuing a "corporate transaction" with the company and would sell its existing shares.
It said it made this decision after carrying out due diligence.
Scotgold has now requested an extension to an existing loan.
More than a year ago, Scotgold secured a pre-development loan worth nearly £1.2m from RMB Resources to help continue a drilling programme at the mine in the Loch Lomond National Park.
The price of gold later fell substantially.