The Whyte stuff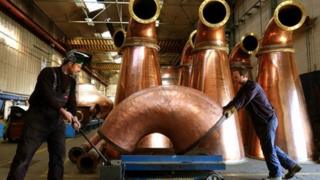 Fancy buying a distillery? Or several of them? This is a hot market for whisky, so be prepared to dig deep.
You may not have to spend as much as Vijay Mallya did to buy Whyte & Mackay, the Glasgow-headquartered distiller and bottler. He paid £595m six years ago, which was eye-popping even at the top of the market back then.
Being India's leading corporate showman, he liked to get a bit of astonishment. But as the rest of his business empire has run into trouble, he's had to give up control of the United Spirits bit of his empire.
Diageo, which has a controlling stake, has long been eyeing up the Indian market for whisky - the world's largest, by a long way.
It would help, obviously, to have import duties cut from 150%, which has been one of the issues around the heart of the apparently endless free trade talks between Delhi and Brussels.
United Spirits' distribution channels let Diageo ease into that Indian market, allowing Johnnie Walker to stride in, alongside United's Indian-distilled liquor.
Bell's and own brand
But Diageo has little need of Whyte & Mackay, and it doesn't want to get mired in a Competition Commission inquiry over the potential for dominance of the UK market.
That market is only 7% of the global total, putting Britain behind the US and France in its taste for whisky. The UK share is declining as global markets return to growth, after being checked last year. Industry analyst Alan Gray says output in the nine months to September has been up 6.2%.
Of that home market, Diageo already has 20%, largely made up of its Bell's brand. Whyte & Mackay has around 7% of it, and another 13% is labelled as own brand for supermarkets.
The Office of Fair Trading reckons that a 40% share would distort the market, pushing prices up. And it comes as no surprise to Diageo that it will have to give something up.
Export markets don't matter much to the OFT, which is why the 40% share of total whisky production controlled by Diageo is not a problem when a 3% share would be added by Whyte & Mackay.
That explains why Whyte & Mackay is on the market, including the Invergordon grain distillery, one of only seven. There's a bottling hall in Grangemouth. It includes Isle of Jura and Fettercairn malt distilleries, plus Glayva and Vladivar vodka.
What Diageo wants to retain are Dalmore and Tamnavulin distilleries and single malts. That's where it clearly reckons the future margins are - though it could be holding them back as a bargaining chip with the OFT.
Luxury brands
Who will buy? Recent evidence is that there's a lively market from premium players for premium malts, not least in the luxury sector. Bruichladdich on Islay was sold last year to Remy Cointreau for another astonishing sum, £58m.
It was taking the same approach as LVMH (Louis Vuitton Moet Hennessy), which owns Glenmorangie and Ardbeg, putting a classy malt into its stable of fine wines, champagnes and brandies.
That's along with a billion pound investment plan from Diageo, and a big programme of expansion also from Pernod Ricard, the second biggest distiller, with Chivas Brothers.
And when I last looked, there were plans to open new distilleries in Shetland, Harris, Ardnamurchan, Glasgow, Glenrothes, Falkirk and Arran.
Alan Gray, of Sutherland's wealth managers and author of the Scotch Whisky Industry Review, says Whyte & Mackay may not have the appeal of a Bruichladdich to the premium drinks and luxury goods firms.
The Glasgow firm operates at a rather less glamorous end of the market. But such is the demand for capacity, along with stocks in whisky bonds, that Alan Gray reckons there could be interest, for instance, from Barcadi, using the Dewar's brand, which already has five distilleries, including Aberfeldy and Craigellachie.
He tips Brown Foreman as one to watch, if it wants to add Scotch to its stable of Southern Comfort and Jack Daniels bourbon, Canadian whiskies and Finlandia vodka.
Pernod Ricard might also want to have a bit of Whyte & Mackay, suggests the whisky analyst, particularly if it could carve out Invergordon grain distillery.
You need patience to start a whisky business, as maturation is not to be rushed. That puts a premium on existing assets, so as Alan Gray points out, there's a lot of demand for assets.