Aberdeen-based Stewart Milne Group announces annual loss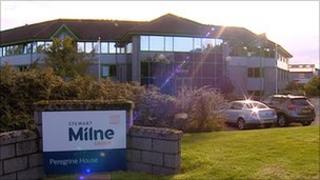 The Aberdeen-based housebuilder Stewart Milne Group has announced an annual loss before tax of £5.7m.
The firm had a turnover of £211m and an operating profit of £20.5m for the year ending in June.
However, "exceptional one-off costs of £13.8m combined with interest charges" saw the loss.
Chairman Stewart Milne said the company was "financially robust" and added: "We are pleased with our trading performance."
Earlier this month, the group secured a £225m credit facility to support the construction of more than 5,000 new homes in Scotland and the north west of England over the next five years.
Mr Milne said of the performance: "It demonstrates the benefit of us remaining independent, driving the business forward, designing homes and creating products to meet customers' needs.
"With the improving market conditions we are well positioned to capitalise on growth opportunities throughout 2014 and beyond with a strong balance sheet and renewed bank facilities."
A "strong trading performance" has been noted since June.
In 2012 the firm had reported a pre-tax profit of £486,000 in the 12 months to the end of June - up from £406,000 in the previous year.