New £900m turnover target for biotech sector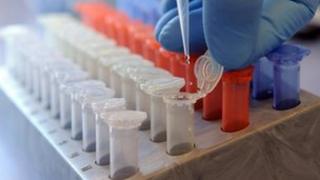 Scotland's industrial biotech sector has been set a new target of increasing turnover from £189m to £900m by 2025.
The new strategy, announced by Scottish Enterprise, is designed to capture a larger share of a global market which is worth £360bn.
Forty Scottish companies are involved in industrial biotechnology (IB) projects in Scotland.
Scottish Enterprise hopes to develop the area by "building on Scotland's existing expertise".
The business development body said it planned to encourage "more sustainable manufacturing processes and more businesses to diversify into this growing market".
It highlighted skills shortages and industry awareness as being among the areas which needed to be addressed.
The strategy was unveiled at the Ecochem conference in Switzerland.
The head of chemical sciences at Scottish Enterprise, Caroline Strain, said: "The rise in global population, rapid depletion of resources, increasing environmental pressures and climate change are each driving the need to develop more sustainable manufacturing processes.
"Investing in industrial biotechnology can help us achieve that.
"Supporting more companies, both at home and overseas, to invest in IB technology in Scotland is a priority for us. Building on our existing strengths in this area, we aim to position Scotland as an international hub for IB excellence."