Insulation firm Superglass reports £7m loss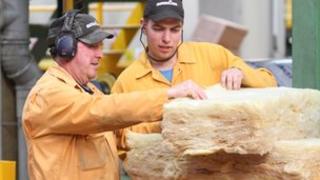 Insulation firm Superglass has reported a full-year pre-tax loss of £7m against a profit of £6.8m last year.
The company said the move from the government's Cert scheme to the Green Deal and Eco had a "significant impact" on results.
Stirling-based Superglass calculated that activity in 2013 would be 90% down on levels in 2012.
However, the company said it was "well-placed" to take advantage of any recovery in the market.
During the year to 31 August, Superglass refinanced its business including a share placing.
It also invested £7m in a new manufacturing facility.
John Colley, executive chairman of Superglass, said: "Notwithstanding the difficult trading conditions Superglass made good progress on a number of fronts.
"Our strategy for the current financial year is to open up further market opportunities for Superglass."
Superglass's chief executive, Alex McLeod described the past year's trading conditions as "extremely challenging".
"The transition from Cert to the government's flagship energy efficiency schemes of Green Deal and the energy supplier obligation (Eco) has resulted in a collapse in demand for loft and cavity wall insulation," he said.
He added that the reduction in overall market demand had seen "competition intensify" resulting in "pressure on pricing levels".
Mr McLeod said he expected demand to recover "albeit from a very low base".