Scottish independence: prepare for a fiscal squeeze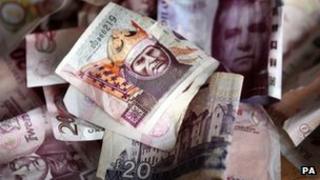 The Institute for Fiscal Studies can't be accused of lacking in bravery. A 50-year time horizon for forecasting the future state of the economy and public finances takes a bit of chutzpah.
So while academics raise concerns about the pressure not to make awkward contributions to the Scottish independence debate, here's one group of pointy-heads who are not being intimidated.
From the point of view of nationalists, it's certainly awkward. The IFS projects a big gap opening up in Scotland's balance sheet.
And long before reaching its time horizon, it's looking at some big changes being required to the patterns of taxation and spending.
Where it agrees with the Scottish government is in the lower level of deficit being run by a notional Scottish government at the moment. That's because Scotland contributes a (very roughly) similar level of tax per head, at least onshore.
And when you add in a geographic share of offshore oil taxes, you get big enough numbers to counter the 11% higher levels in Scottish spending per head.
Unpleasant choices
It's worth stressing that the projections for an independent Scotland look bad, but shouldn't let us forget that UK finances are in a mess. Indeed, they're formidable because the UK finances are in a mess. So the squeeze that's foreseen is not unlike the unpleasant choices facing Britain as a whole. However, it is a lot bigger.
The IFS is projecting a squeeze of 1.9% of national income at the start of the next decade if debt is to be brought down to manageable levels. That compares with the 0.8% being required of the UK as a whole.
To give you an idea of the scale of that change, it's looking at either a cut in spending on public services of 8% or a rise in taxes, which if all applied to VAT would see it rise from 20% to 28%. Or you could put up income tax by 9%.
All that requires assumptions, including the level of debt inherited from the UK and the cost of servicing that debt.
The problem for an independent Scotland arises from looking ahead at the trajectory of two big factors. One is the population. Scotland does not have the levels of migration that you find in England, and as a result its population is ageing more rapidly. An older population means more dependency for services on a relatively lower number of tax-paying workers.
The Scottish population decline has been turned around recently, but the rise over time is lower than that projected for England. Between 2012 and 2062, it's reckoned the Scottish population will be up 4.4%, whereas it's looking like 22.8% for the UK as a whole.
The other factor is our familiar friend: oil and gas revenues. This is where the IFS can expect most pushback. Its "basic model" for future finances is based on projections coming from the Office for Budget Responsibility.
It has taken the unexpectedly sharp drop in production over the past three years, and weighted that into its future projection. A less pessimistic take relies on current high investment levels, which are expected to see UK oil and gas output rising, at least temporarily.
Rate of growth
And as you surely recall from past blogs, we don't know what's going to happen to oil prices or the cost of production per barrel, both of which make a big difference to offshore energy revenues.
On Tuesday, we can expect a rather less awkward document, when the Scottish government sets out its economic case for independence.
This is ahead of the White Paper, scheduled for publication on Tuesday 26 November. The economic case looks back, arguing that Scots could have income per head £900 per head higher than it was in 2007, if it had matched the growth path of similar independent nations in the preceding 30 years.
If Scotland had matched the UK rate of growth, which it has been doing more recently, it could have had £720 more income per head.
The economic case will also look ahead, to suggest ways in which tax levers could be used in targeted ways to respond to Scottish circumstances and opportunities.
And its assessment will focus on the shortcomings of the UK economy at present; inequality, unsustainability and regional imbalances - with the claim that Scottish independence could tackle all three.