Scottish jobs market 'back at pre-recession level'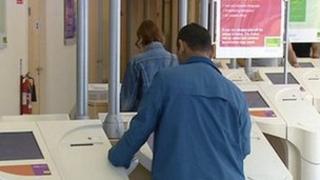 Scotland's jobs market has put on its best performance since before the recession, according to a survey of recruitment agencies.
The Bank of Scotland Report on Jobs for October recorded another sharp rise in the number of people finding both permanent and temporary jobs.
Recruiters largely linked the latest improvement to greater client demand.
The survey suggested demand for permanent staff rose at its sharpest pace since July 2007.
It also found a further sharp deterioration in availability of staff.
Permanent salaries also rose at a strong pace in October, although the rate of growth eased from September's six-year peak.
The survey results provide further evidence of a strengthening Scottish economy.
Official data released last week showed employment in Scotland increased by 16,000 over the three months to September, following a sharp rise in the previous set of figures.
And Scottish retailers reported a "tentative boost" in sales for October, with total sales increasing year-on-year by 2.1%.
Jobs barometer
Bank of Scotland's labour market barometer climbed last month to its joint-highest level in more than six years.
At 60.9, up from 60.0 in September, it indicated a marked improvement in Scottish job market conditions, which remained stronger than the UK average.
The barometer is measured against a baseline of 50, with anything above that number representing an improvement in market conditions.
Permanent placements grew at their fastest pace in Dundee, while Glasgow saw the strongest rise in temp billings.
The sharpest deteriorations in permanent and temporary staff availability were recorded in Glasgow and Aberdeen.
There was a marked deterioration in permanent candidate availability, albeit the rate of decline was the weakest in four months.
Meanwhile, the availability of temporary staff fell at its sharpest rate since December 2004.
Staff demand
Demand for permanent staff increased in all sectors, led by IT and Computing.
Moreover, the rates of growth accelerated in all but Engineering and Construction.
All eight sectors posted a larger number of temp vacancies in October - the first universal rise since June 2012.
The Nursing/Medical/Care sector saw the strongest rate of vacancy growth, which was the fastest since data collection began in January 2003.
Bank of Scotland chief economist Donald MacRae said: "October's Labour Market Barometer rose to its joint-highest level in over six years, taking the index back to pre-recession levels.
"Demand for staff rose at a marked pace across all sectors while the number of people appointed to jobs rose sharply in the month.
"Salaries for permanent jobs increased at a strong pace."
He added: "The recovery in the Scottish economy is showing through in growing employment and rising pay."