Scottish empty shop rate 'at two-year high'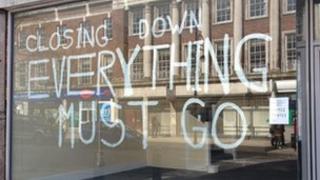 The number of empty shops in Scotland has reached its highest rate for more than two years, according to a new report.
The vacancy rate rose to 11.1% last month from 10.1% in July and is now in line with the UK average.
The rate north of the border is at its highest since July 2011.
The Scottish Retail Consortium (SRC) said the figure was "a cause for concern, especially this close to Christmas".
The latest SRC/Springboard retail sales monitor also showed a year-on-year fall in shopper numbers in Scotland last month.
Footfall was 2.7% lower than a year ago but unchanged from September.
Scottish retailers recently reported a "tentative boost" in sales ahead of the crucial festive period.
Total sales increased by 2.1% in October, compared with the same period last year.
'Fragile recovery'
SRC director Fiona Moriarty said: "The drop in Scottish footfall matches the September result, and mirrors our recent sales figures which painted a picture of fragile recovery and many of us holding back on shopping trips until Christmas gets closer.
"There's clearly some uncertainty ahead, but retailers will be hoping that seasonal momentum will help lift these figures into more positive territory next month."
Diane Wehrle, retail insights director at Springboard, which carried out the research, said footfall trends had been on an accelerating downward slide since August.
Her analysis suggested high streets increasingly lost out to shopping centres as the weather worsened last month.
On an annual basis, footfall in town centres dropped by -3.6% compared with -2.9% in shopping centres.
Ms Wehrle added: "Out-of-town locations have clearly been the most resilient, with an annual drop in footfall of less than half that recorded in shopping centres and a third of the drop in high street footfall - clearly the result of the recorded demand for leisure, household and games products."